After over 3 years of work, I'm excited to show you the Creek Studio.
We will start sending out invitations for beta testing in May 2020.
Here's how it looks: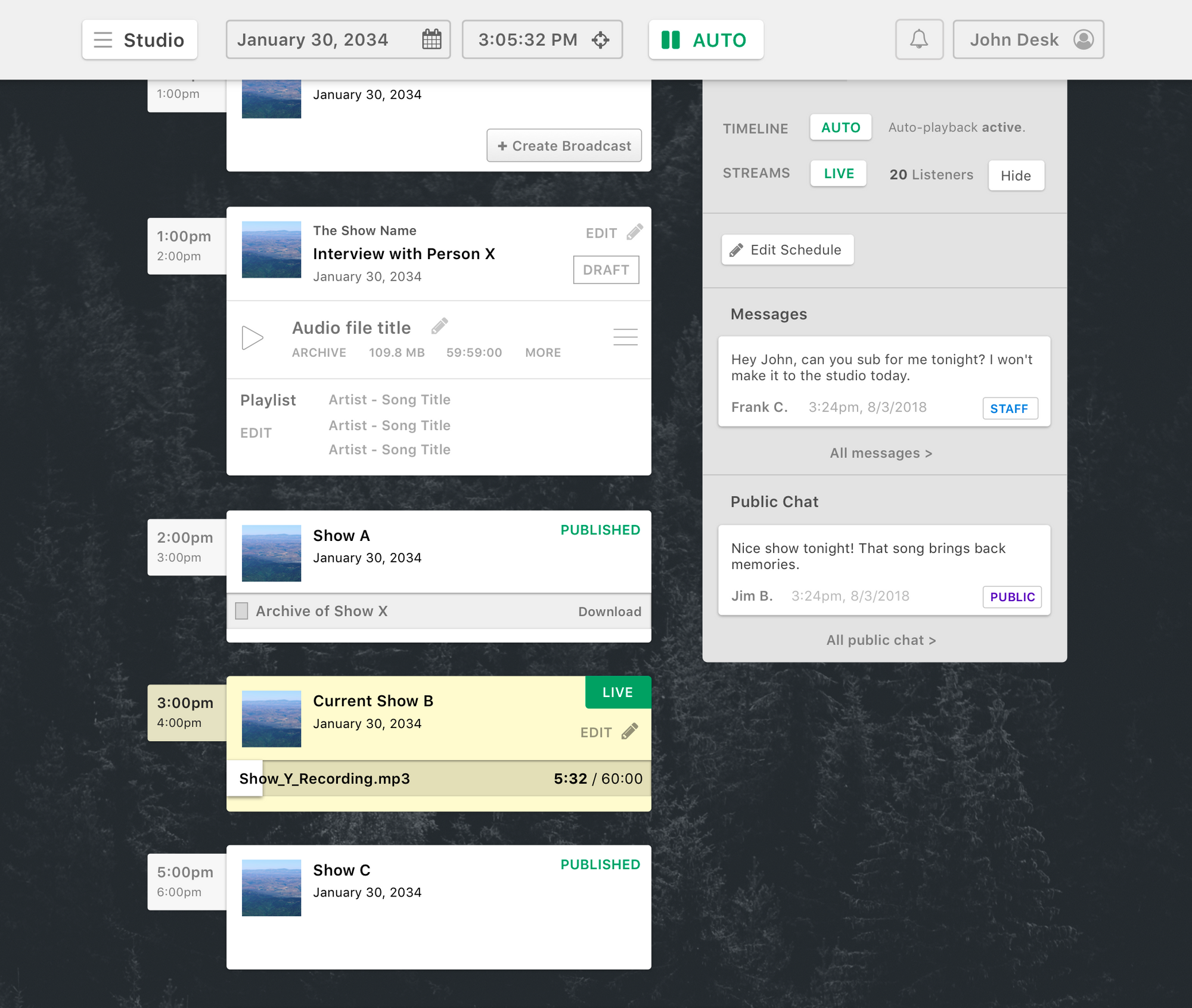 What's New?
Here are the highlights:
Automate Your Audio
By installing the Creek Broadcaster – our new hardware device – the Creek Studio becomes a way to automate your physical studio from anywhere.
Play music. Build playlists in advance, or play tracks live (similar to "live assist").
Schedule to play recorded shows. For example, Jenny can upload her 2-hour prerecorded show, and it will automatically be played on her 8PM airtime.
Play overlay messages. Play underwriters and station IDs over your music and recorded shows.
Tie-in live remote audio. Automatically load up a remote audio stream (Icecast) and play it on air.
Advanced Schedule Builder
Now you can create recurring shows with the same complexity as Google Calendar. Easily handle those weird "Every 3rd Tuesday" scheduling scenarios.
Automatic Music Recognition (like Shazam)
Do your live shows, while a robot automatically recognizes music from the audio itself, and enters the metadata for you (artist, title, label, ISRC, etc.). From our experience, it's about 95% accurate – and if the robot guesses wrong, you can review and edit the playlist. To use it, install Automatic Music Recognition tool (additional $100 per year).
Sidebar for Chat and Messages
See important messages from other DJs your station, including internal announcements and those "hey did you find my CDs?" messages. Or, chat with your listeners by installing the Public Chat component on your station's website.
Dark Mode
Because some people just cannot use apps with bright white backgrounds anymore. (Or maybe that's just me?)
When can I use the Creek Studio?
We will start beta testing in March 2020. We'll send out an announcement when it's ready to beta test.