Creek can automatically archive and publish your station's radio shows.
Please email me at:  help@creek.org  – I'll set up a phone call with you to talk about your station, and how to install Creek's archiving system.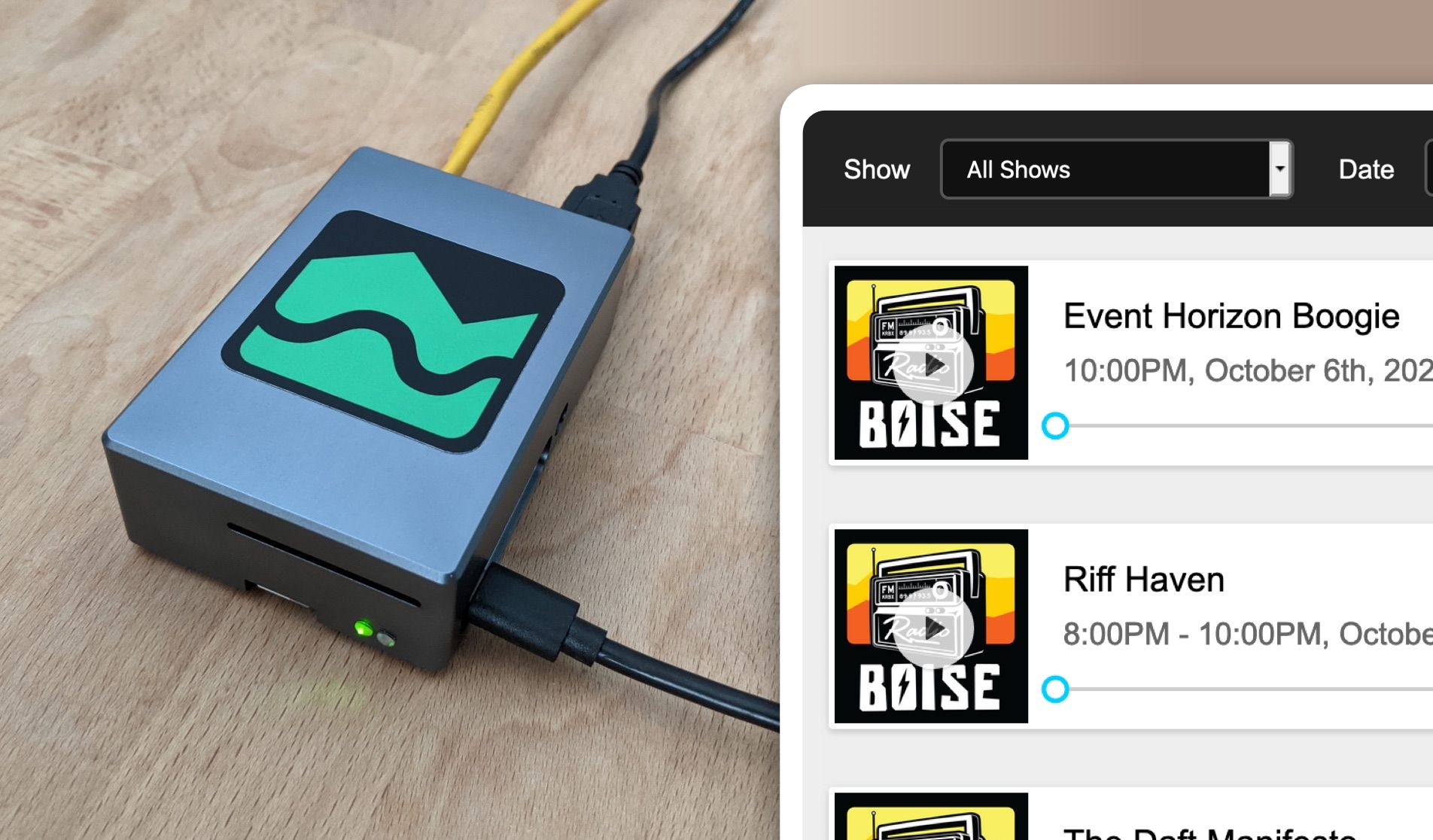 Overview

Archives on your website
Automatically publish archives on your website with Creek's website tools. (See demo below.)
Record audio in your studio
Creek provides a dedicated archiving device to capture audio directly inside your studio. This is more reliable than recording from the stream, where audio gets lost if the studio Internet connection decides to flake out.
Flexible storage: 2 weeks or forever
Keep original-content shows indefinitely. Hide shows with copyrighted music after 2 weeks. Keep unlimited private archives so that DJs can access their past shows.
Spinitron integration
If you have Spinitron, then you can import your existing Spinitron schedule to create audio archives that are nicely organized under each show.
Live Demo
Theme is customized to match your website.
The seek bar can optionally be disabled for DMCA compliance.
Video Overview
Pricing
A.) Monthly option: $50 per month.
B.) Yearly option: $550 per year (a $50 discount) and no set-up cost.
$300 one-time cost for the archiving device + $20 shipping.
One half cent per GB ($0.005/GB) for audio archive storage. This comes out to only $4 per month to store 1 full year of audio at 192kbit/s.
1 hour of installation included. (I'll help you hook things up over the phone or Zoom.)

Easy install: Just add audio and Internet.

The best way to archive your station's audio is from inside your studio, directly from an audio source, and with a dedicated archiving device, like this one.
Introducing the Creek Studio Device: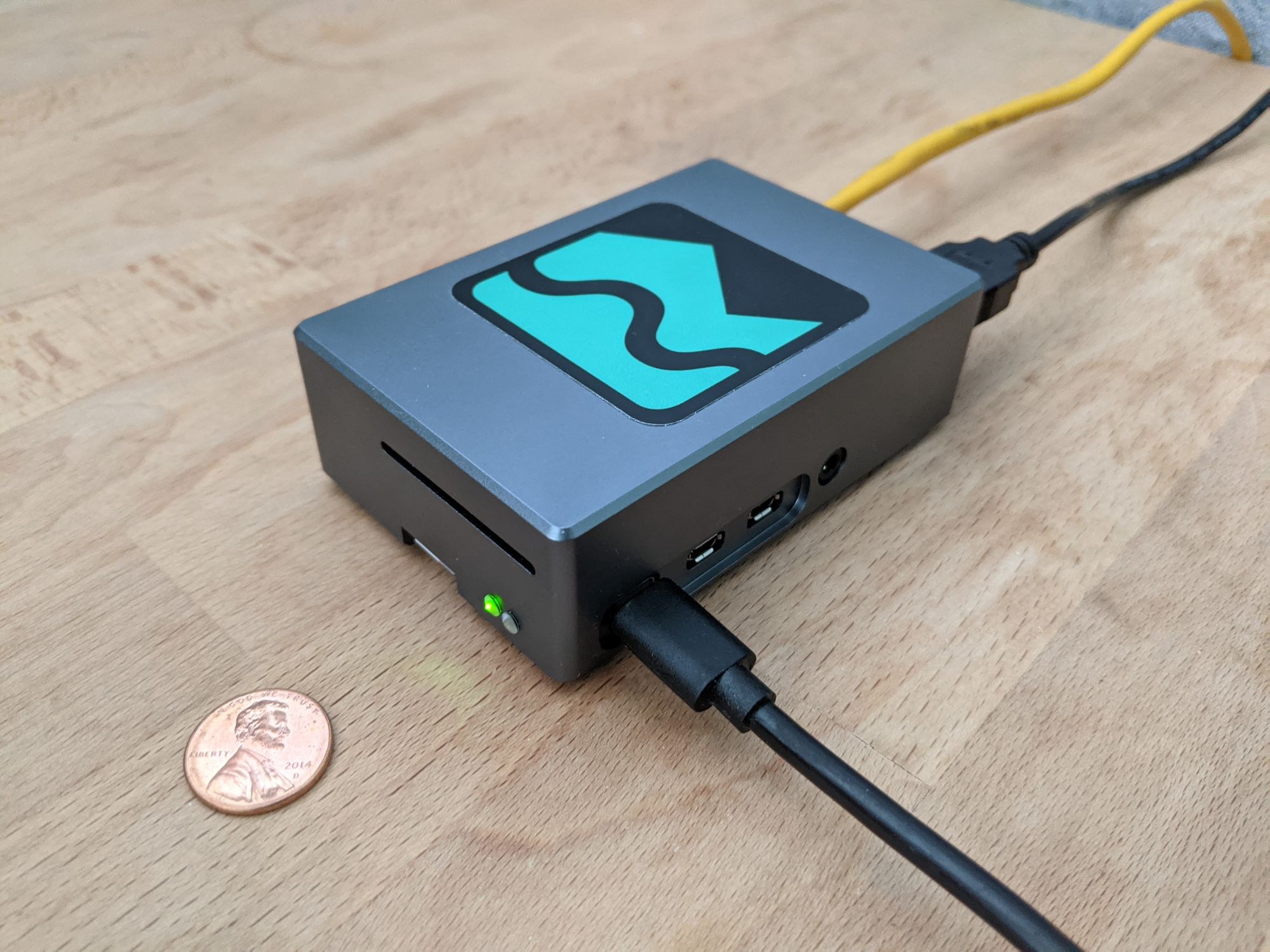 This device records your audio from a USB audio interface.
(And it can also stream your audio — similar to a Barix or Telos device — but let's focus on archiving for now!)
After recording each show, it uploads the audio to Creek Studio.
Then, this uploaded audio can be integrated with your website (see below for more).
Installation process:
Unpack your Creek Studio Device. (Cost: $300 + $20 Shipping)
Connect the power cable.
Connect a USB audio interface – like the Behringer UMC204HD or the Scarlett 2i2 USB (Cost: About $150-$170)
Connect it to ethernet for Internet access. (It doesn't require any special firewall settings.)
Already have a recording system?
Some studios have an existing recording system that stores audio files on a network drive. The Creek Pi can use these files if this works better with your studio set-up.
Custom Studio Integrations
If your studio has a special hardware/software situation – just email me, and we'll develop a custom solution for using Creek's archiving system.

Flexible 2-week limit, with unlimited private archives
Each show can have its own archiving rules.
If it has copyrighted music, then hide the archives for that show after two weeks.
If the show has only original content, then keep it available online indefinitely.
Plus, archives are kept in private storage for as long as you want. DJs can access the audio for any of their past shows.
(XRAY.fm in Portland, OR has archives spanning back to 2013.)

Spinitron Schedule Import
Creek can import your Spinitron schedule, DJs, and playlists – allowing you to get started archiving with almost zero set-up work if you already use Spinitron.
Creek will record the audio for each show in Spinitron, and upload it to your website.
(Or, if you don't have Spinitron, then use Creek Studio to build your show schedule.)

Website Integration
Add your archives directly to your website.
Plus, Creek's website tools will add a show schedule, and pages for each show. Archived audio then gets organized under each show.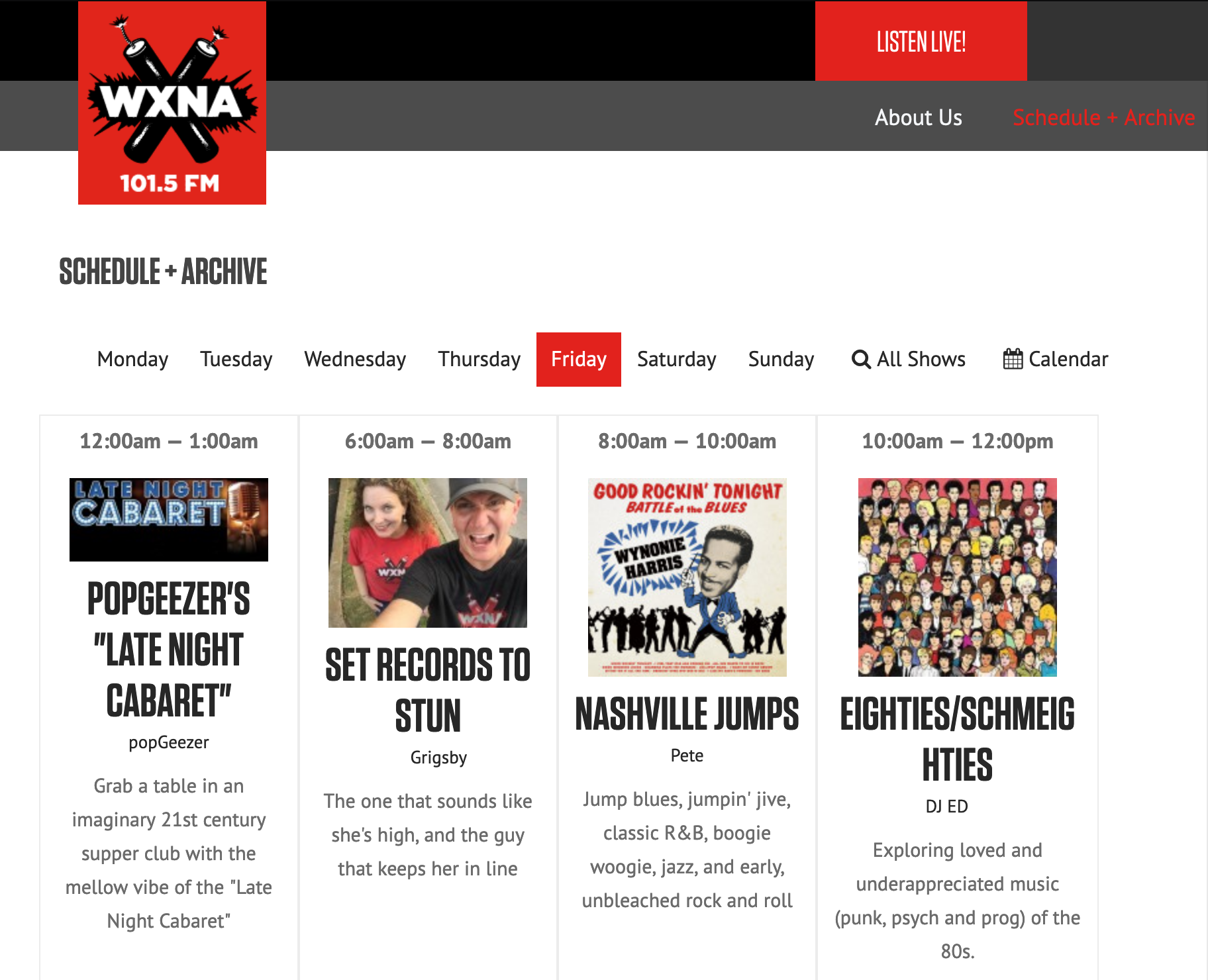 Technical Details
All archives are organized inside Creek Studio. It's a bit like WordPress. DJs can sign in to Creek Studio and download their past archives. It will also keep your archived audio for years (if you want).
Archives are stored on S3 storage. It's like Dropbox, but for web developers. I'll help you set this up on Backblaze, or you can bring your S3 service – like those from Amazon, DigitalOcean, or Backblaze.
If you have WordPress, you can use our plugin to add the archives to your website (like on the WXNA website). If you are not using WordPress, then archives can be added with an embed code.
Example Stations
Here are a few of the stations that use Creek for archiving.