Hey Y Combinator!
This explains Creek in like... 5 minutes!
Overview
There are 5 basic components.
Creek Stories: Studio-quality videos for anyone. (This is the big idea, and why I'm applying to YC.)
Creek Recording System: Ensures good recordings at each studio.
Creek Broadcaster: A device that reduces the friction to install Creek at nonprofit radio stations – the initial set of friendly studios that will record people.
Creek Studio: Creek's SaaS platform that will (1) provide critical tools for radio stations, (2) give Creek recurring revenue, (3) allow people to book recording sessions for Creek Stories. (Live demo here.)
Creek.org: The public-facing organization that drives Creek forward.
Creek Stories
View mock-up here: https://stories.creek.org – or click this photo: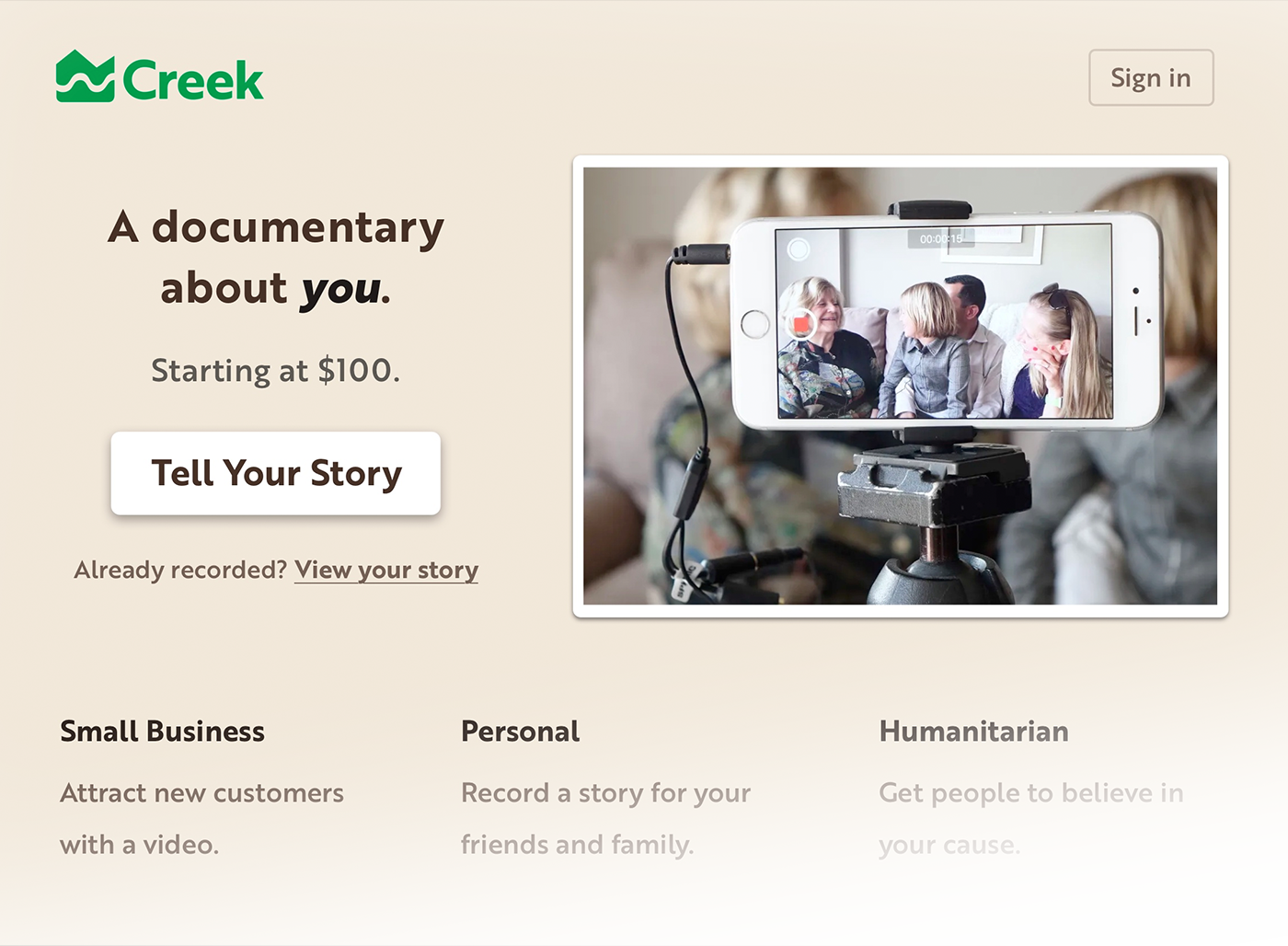 Creek Stories is a way to answer these questions:
What if anyone could get their own short documentary?
How would they use it?
How could it help them?
Creek Stories is the opposite of Facebook Stories:  It's a way for anyone to get their own long-form, studio-quality videos for marketing or personal use – and they are preserved for decades, rather than for 24 hours.
It is especially for "non-technical" or "non-artistic" people. Creek can reach the millions of people who wouldn't otherwise create recordings of themselves.
Some possible uses:
Small business owners creating advertising videos.
Senior citizens preserving their stories.
Nonprofits describing their mission.
Stories Wanted
This is how Creek Stories can be an enterprise product. (See mock-up.)
Creek can give brands a way to create authentic marketing material, while simultaneously doing something good – helping people tell their stories.
Imagine a brand like Nike sponsoring 100 stories – authentic, personal stories of people talking about sports, or their childhood pair of Nike shoes.
Creek would provide the marketplace (an index of Stories Wanted) and the infrastructure of studios to create these videos at scale – recording people wherever they are.
Creek filters down to the most authentic stories, and edits the videos.
Nike gets a gallery of these stories, which they can can post on Twitter.
Creek then gets reciprocal marketing through "Creek.org" logos on the gallery.
Creek Recording System
We'll send this to studios that do recording sessions for Creek Stories. It's like Google Cardboard – but for ensuring that each studio captures high-quality videos of people.
That's my goofy face in the "interviewer" position, acting as "story coach" to help a hypothetical Creek user tell their story.
Eventually, this system will allow us to add machine learning to catch video/audio issues in real time – since the main camera will be a smartphone.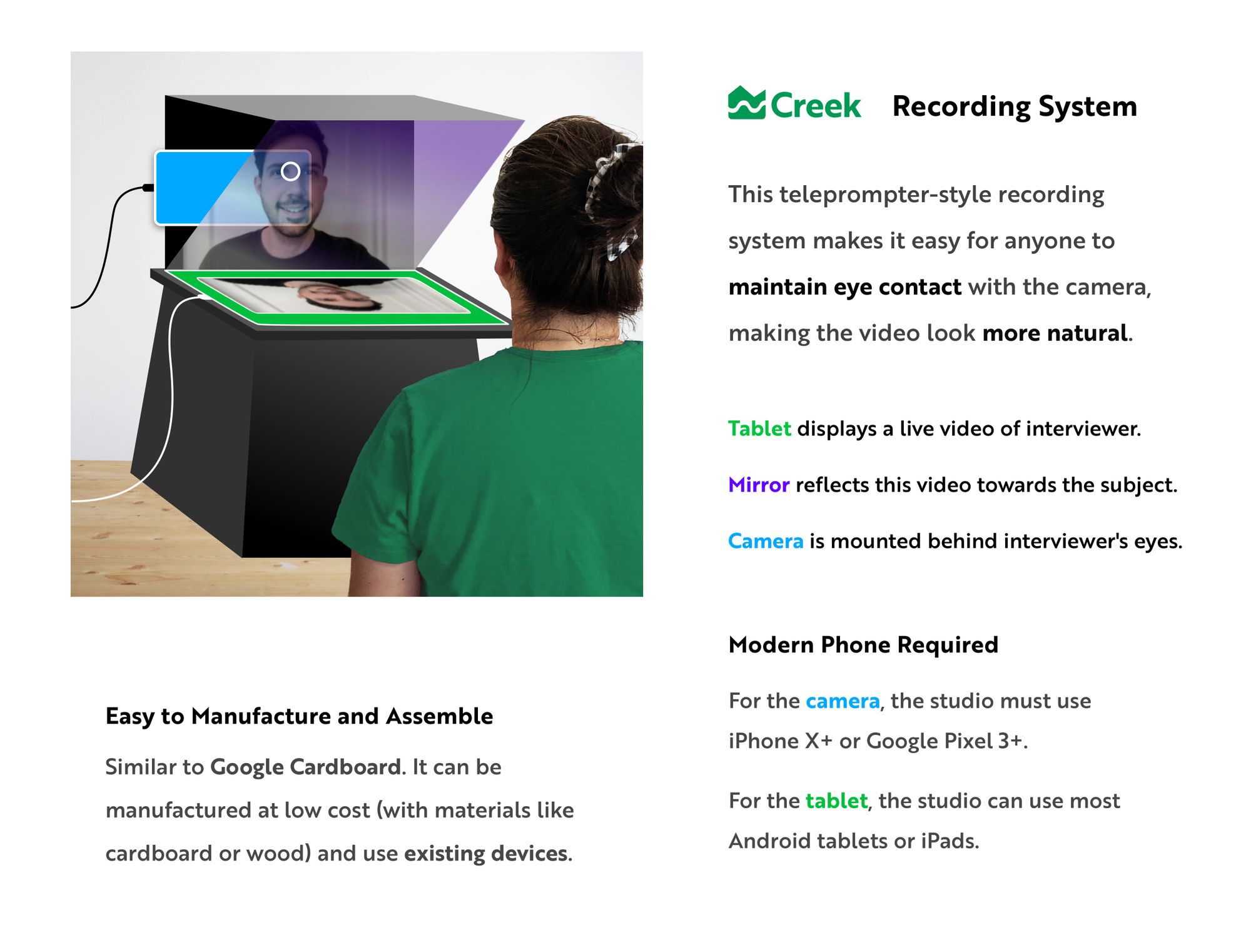 COVID-19 and Creek — We could build a cardboard version of the Recording System, and ship it to people at home. Then we can remotely help them record nice-looking videos of themselves. This could, for example, help small business owners create advertising videos to sell their products from home.
Creek Broadcaster
The Creek Broadcaster is a small hardware device that provides a complete software and hardware stack for indie/nonprofit radio stations – and there's about 3000 of these stations in the US and Canada.
Its bigger purpose is get Creek installed quicker at radio stations – giving us a strong foothold on an initial set of studios. (Then, we'll expand into the broader field of non-radio studios.)
That's me in the photo – disheveled but excited – after digging around under a table, and plugging in the cables... for the very first Creek Broadcaster!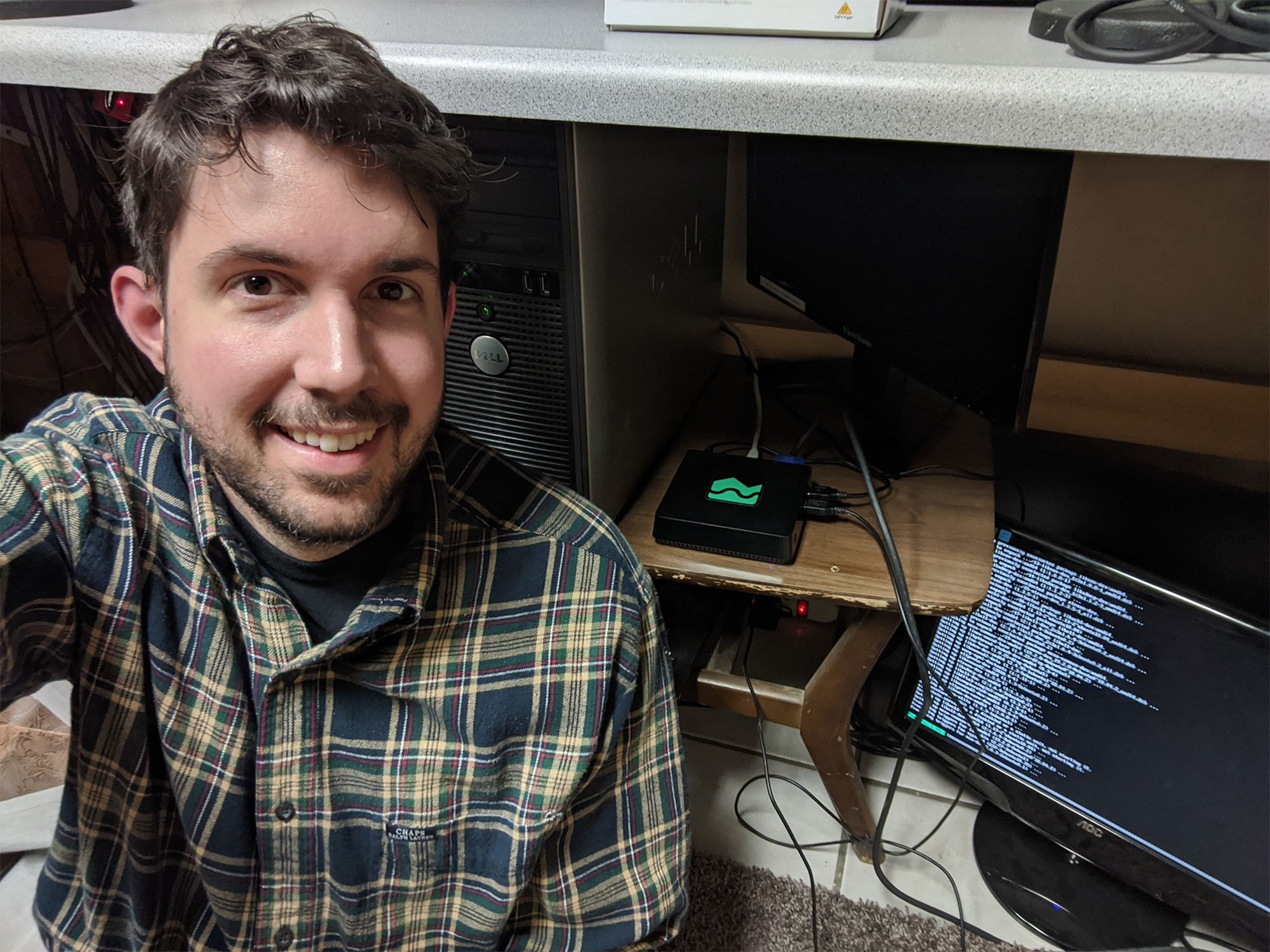 I installed it at an FM radio station inside a youth center in Oroville, CA. It's streaming their audio live, and it will soon automate their entire radio station.
Shhh, just between us – it's actually a mini-PC that I bought on Amazon, and I added a vinyl logo sticker that I created on StickerMule.
Creek Studio
This is what gives us a path to getting the first 1000+ of those indie/nonprofit radio stations to use Creek.
Creek Studio is a CMS (like Ghost) but for creating podcasts, automating scheduled audio (i.e. running radio stations on autopilot), and managing media libraries.
The underlying music automation code is already playing music inside 200+ US restaurants right now. It will soon automate radio stations as part of the Creek Studio – freeing them up to record people in their local areas.
Click this screenshot for a live demo: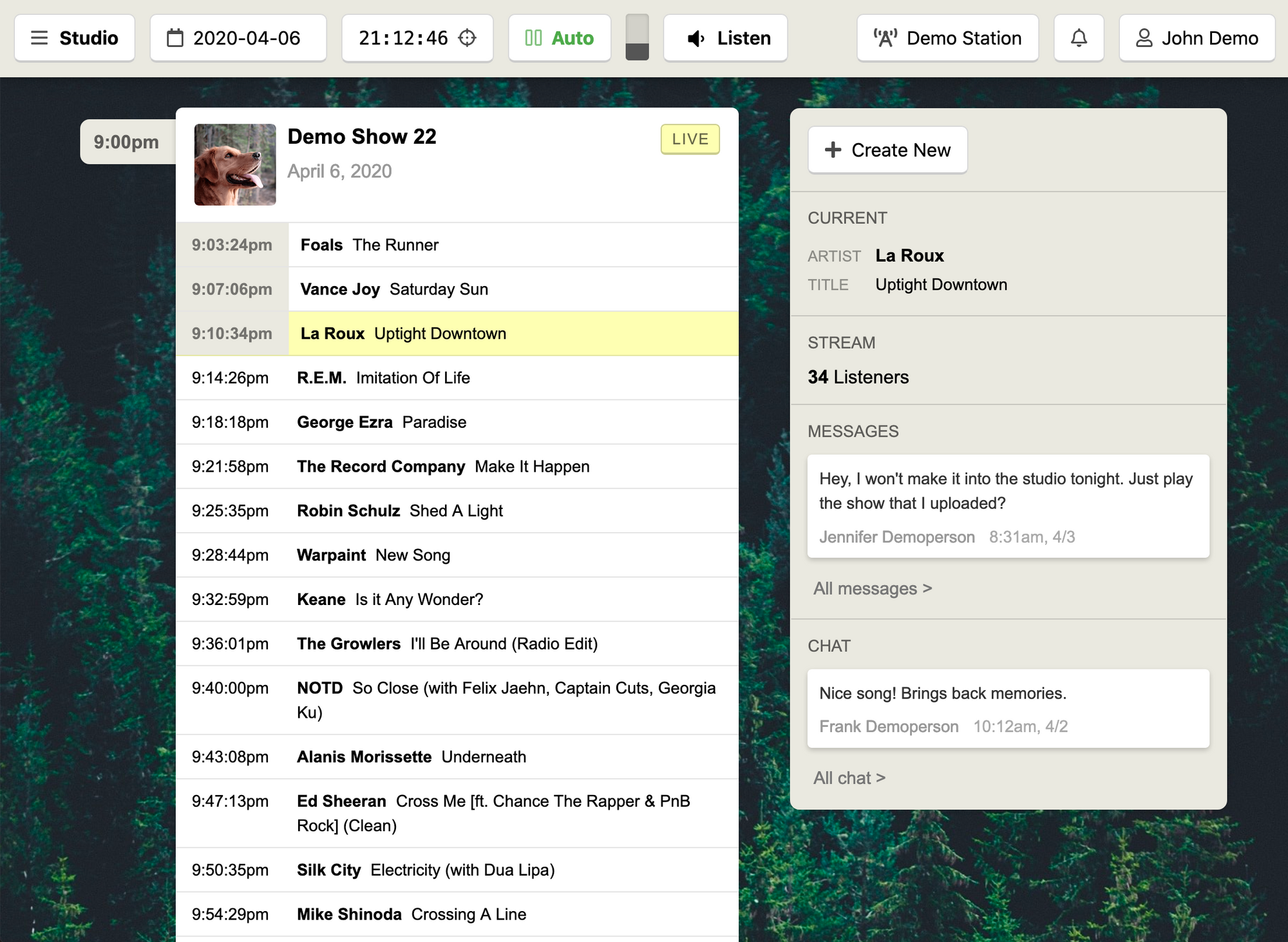 It's a standalone SaaS platform that we sell for $50-$100/mo, and so it provides monthly recurring revenue for Creek.
Right now, it supports audio, and we'll be adding support for video – i.e. managing the recorded videos of people from Creek Stories.
Lastly, studios can make certain 1-or-2-hour schedule blocks into available session times for Creek Stories.
COVID-19 and Creek — Creek Studio will allow radio stations to run their studios remotely, or allow each DJ to publish their shows from home. Hundreds of small stations are struggling with this right now.
Creek.org
Similar to Mozilla.org – Creek.org will move Creek forward as a company.
Creek.org will benefit Creek in these areas:
Marketing: Creek.org will get shared organically on social media simply by doing something important – recording people's stories. It will attract broad consumer interest, rather than just niche "studio" and "radio" industry people.
Donations: It will get free resources, like CDN usage (e.g. CloudFlare). This will help cover bandwidth costs when certain stories become viral.
Enterprise: It will augment our enterprise version of Creek (as explained above). Since corporations sponsor Creek to record specific types of stories, a "dot-org" will help garner the trust needed to record people's personal stories in the service of these corporations.
Long-term Archiving: Similar to Archive.org – Creek.org could be the enduring entity tasked with maintaining archives for decades.
Lastly, I may also follow Mozilla's corporate structure – if it doesn't break too many things. That would mean incorporating the Creek Foundation as a 501(c)(3) and Creek Inc. as a regular C-corp.