Why stories?
 
Because we need stories.
Because we are forgetting what stories are.
Because Facebook has Stories.
Because stories now delete themselves after 24 hours.
Because stories are now part of a system that is engineered to increase our addiction to social media platforms. Engineered to make us come back every 24 hours. Engineered to increase a metric that they call Daily Active Users.
Stories hold societies together. You cannot build a society around stories that delete themselves after 24 hours.
We need a counterbalance. We need the opposite of Facebook Stories.
We need to safeguard the idea of stories.
We cannot forget what stories really are.
Stories are not inside our phones. They are both always around us and where we never look.
We cannot watch Facebook Stories while elderly people are dying in rest homes — alone and scared — with their stories dying with them.
We cannot let the stories of our family members fade into darkness — because someone didn't record them, because it seemed silly at the time, because who-would-care.
A story is a rare gem in a vast universe of noise.
We now have the technology to keep every story. There is plenty of storage for stories.
So, why not?
Creek will be an organization for stories.
It will have a dual mission: recording our stories, and safeguarding the idea of stories.
We will not forget our stories, and we will not forget what stories are.
How?
There are five main components. We'll cover each one in detail.
Creek Stories
A system that helps people record their stories — either on their own, or with the help of a studio. Stories can be shared privately, or made available to anyone. They are also saved for as long as possible, through a long-term organization called Creek.org — like Archive.org, but for stories.
Creek Studio
A system that automates studios, and helps them record more stories. Studios will naturally promote the idea of recording stories, since (1) it helps them get funding, and (2) it gives them a stronger purpose, and new motivation to connect with their local communities.
Creek Device
A device that reduces the friction to install Creek at nonprofit radio stations. These nonprofit stations are an ideal first set of studios for the stories project.
Creek Recording Kits  
A set of low-cost tools that improve the quality of recordings. This includes apps, microphones, and a "cardboard studio" for video recording. If people record their stories, then they should record them well.
Creek.org
An organization that will promote the idea of recording more stories. It will rely on a strong social media presence, and creative outreach campaigns.

---
Creek Stories
How could the idea of recording stories help the most people?
This won't happen by throwing another app into the App Store. We need to get out there and motivate people everywhere to record their stories.
This especially includes people who don't think they're a "creator" — in other words, the vast majority of people. Recording stories isn't just for podcasters and YouTube channels. Everyone can tell their stories. Everyone should tell their stories.
If this project accomplishes only one thing, it must be that it helps people who wouldn't otherwise create recordings of themselves.
Creek Stories would be the opposite of Facebook Stories.
They would be long-form, studio-quality recordings, rather than short videos. They would also be preserved for decades, rather than for 24 hours.
Some possible uses:
Small business owners creating advertising videos.
Senior citizens preserving their stories for future generations.
Nonprofits describing their mission.
But, honestly, I don't know how people will use stories. That is the point of stories. We don't know what stories are out there. We need to find them. Then, we need to encourage people to tell them. Then, we need to record them.
Creek Stories:  Mock-up
This mock-up focuses on video, but audio works, too.
It's a collection of ideas for a centralized landing page. It's not the shareable landing page for individual studios (described below).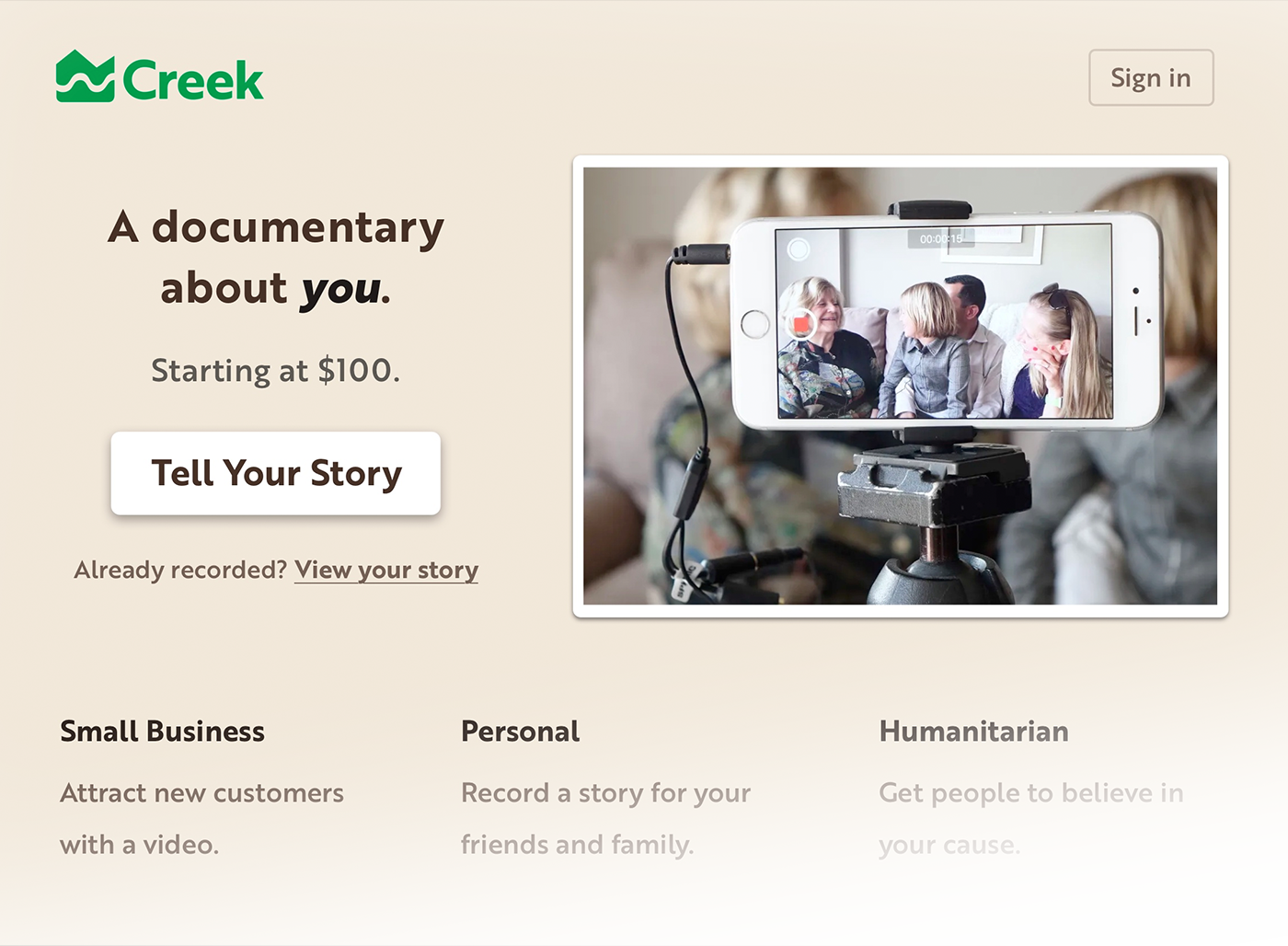 Creek Studio
Creek Studio will be the underlying software framework for Creek Stories.
It also gives us a path to get the first 1000+ studios to use Creek — starting with nonprofit radio stations.
Nonprofit radio stations are an ideal first set of studios since:
They have a lot of volunteers who are great at listening.
They need a way to get more funding. Recording stories is a good way.
They already record stories, but it would help everyone (both the station and their community) if they record more stories.
We already have software that nonprofit stations use, and it almost does this stories thing — but we need to add a few tools, which we'll cover below.
Creek Studio is a headless CMS like Ghost, but for live media rather than blog posts.
The goal of Creek Studio is to give small studios a way to build independent websites that look as good as the big platforms (like Spotify).
It will also help them automate their studio, organize their media — so that they can run their studios better and do basic studio tasks with less work.
So far, development has focused on radio stations:
Creating radio content — playlists, podcasts, and live audio.
Automating scheduled audio — running radio stations on autopilot.
Managing media libraries — audio recordings and music.
The automation component is so far playing background music at 1000+ US restaurants. It will soon automate a lot of work at radio stations, too. Then these stations will have more free time to record more people in their local areas.
(...or more free time to deal with life in general. But hopefully they'll spend some of it on recording stories.)
Video support is planned. So far, Creek Studio only supports audio. If people record stories as videos (and they should, when possible) then we need to have those covered, too.
It also funds Creek. The other purpose of Creek Studio is to provide steady recurring revenue for Creek as an organization. It's a standalone SaaS platform that we sell for $50-$100/mo. There are other organizations that rely on donations (like StoryCorps) but Creek will be self-funded (again, like Ghost).
Everything seems lined up. It would be an enormous missed opportunity if we did not make stories a major component of Creek. We're in a position to promote recording stories simply by giving these studios a few tools.
Adding Stories to Creek Studio
To make Creek Studio support this Stories project, we should add:
An outreach tool
Studios can create a shareable landing page — a "Record Your Story" page. It gives studios an easy way to promote the idea of recording stories. It acts as an onboarding tool, where the general public can create their own accounts (to manage their recorded stories), and it collects payments (or donations) for the studio.

A booking system
Studios can schedule "Story Sessions" — creating time blocks within their schedule for 1-on-1 sessions to record stories from local people. If they are a radio station, then these time blocks will often be when their studio is running on automation, and so they can use their studio for something else — recording stories. Or, they can use the booking system to set up remote meetings, and use Zoom or Riverside to record the story (and eventually Creek could develop its own Riverside — once it has enough water funding).

A story management system
Studios can organize and edit the stories that get recorded, and keep the files in long-term storage (at Backblaze). They can help people access their recorded stories, and act as the "support team" for the stories project.

A central user system
We'll need a separate user account system for public users who recorded their stories. Then these users will be able to access their story through Creek.org, and (a) share it with family members through email-based invites or secret links, similar to Google Docs or (b) make the story available to the public. These user accounts could be called Creek.org Accounts. They will be apart from Creek Studio, so that public users are not mixed in with the Creek Studio users. However, these two accounts would be linked — so that you can seamlessly utilize your Creek Studio account through your Creek.org account.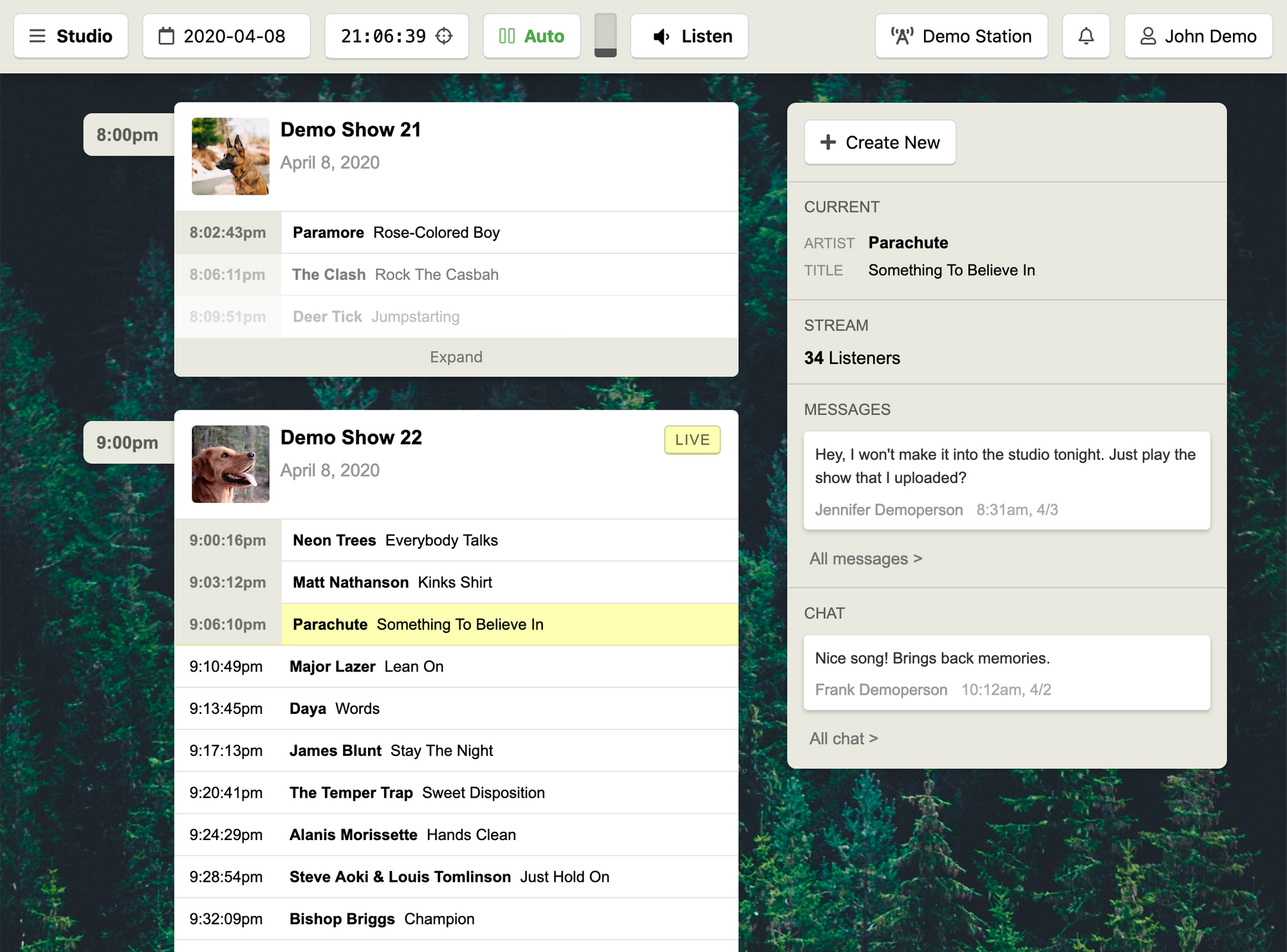 Creek Broadcaster
Creek Broadcaster is a small device that provides a software and hardware stack for nonprofit/indie radio stations.
Its bigger purpose is get Creek installed quicker at radio stations — giving us a strong foothold on an initial set of studios. There are about 3000 of these stations in the US and Canada.
Then, we'll expand into the broader field of non-radio studios.
The maker community could build them. Creek Broadcaster can be a way to rally the hardware hackers at these nonprofit studios. It uses a Raspberry Pi 4, and it's possible to make all of the software on the device open source. Then people can optionally buy a RPi 4 and install the software — and maybe even contribute to the code. This could work since Creek Studio would remain a cloud-based central platform with a monthly cost that funds the project, allowing the satellite projects to be open source.
Until then, for $320 each, I'm building these devices one-by-one, and shipping them out to studios.
In the photo below, that's me — after digging around under a table, and plugging in the cables for the very first Creek Broadcaster. It's inside a youth center in Oroville, CA called the African American Family & Cultural Center.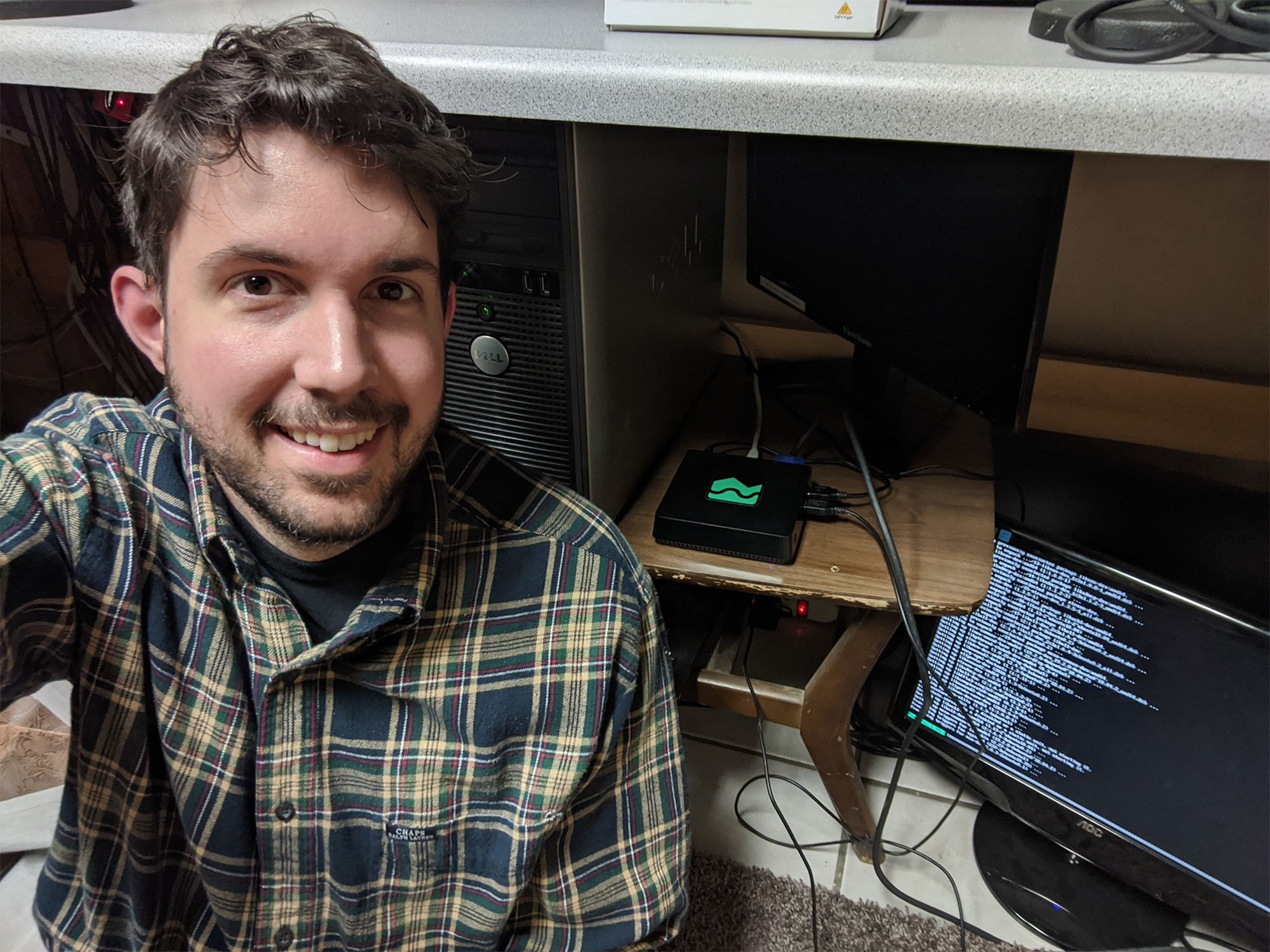 Creek Recording Kits
Creek will provide low-cost recording tools that improve recording quality.
This could take many forms:
An app — for iOS and Android that helps people record high-quality stories. It may recommend a lapel microphone, or illustrate how to set up a two-person storytelling area.

A hardware bundle — a set of basic tools for recording, priced under $50. This may include pair of lapel microphones, a USB charging + data adapter (for recording long videos on iPhone/Android), and so on.

A smartphone recycling mission — a social media campaign that promotes donating older smartphones to people who need them. Instead of trading them in at Apple/Google/Samsung, we can give them to people so that they can record their stories and connect with others. This would also help promote the Creek mission by doing something memorable and newsworthy.

A cardboard video studio (illustration below) — like Google Cardboard but for building an instant video-recording studio. It helps make stories look more natural by allowing people to maintain eye contact with the camera. Eventually, this system can use machine learning to catch audio/video issues in real time – since the main camera will be a smartphone. It can be used by studios, or shipped directly to people – allowing them record themselves at home or work.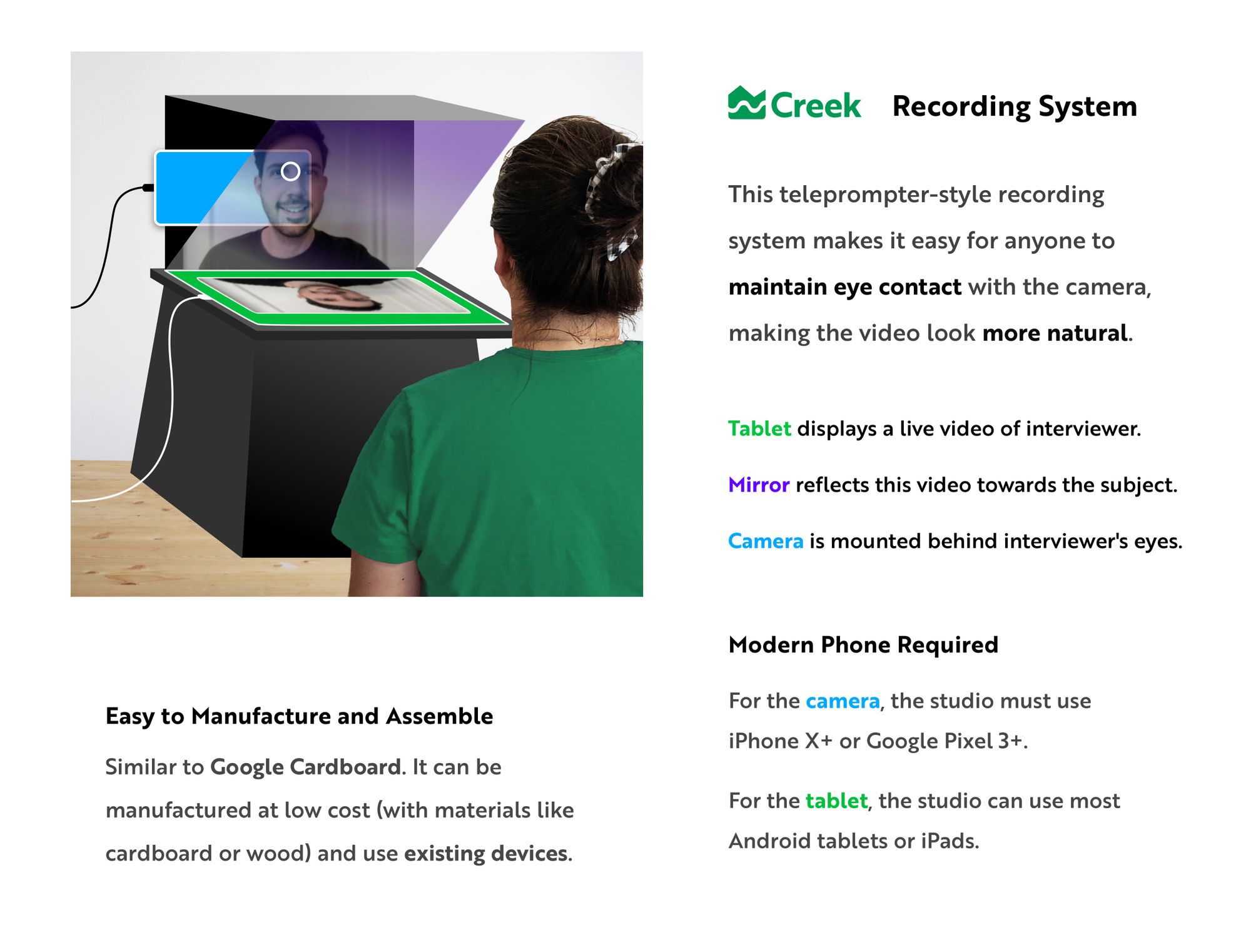 Creek.org

Creek.org will be an organization that promotes the idea of recording stories.

It will be similar to Archive.org or Mozilla.org — where an organization both develops a core platform (i.e. The Internet Archive or Firefox) and promotes that platform through a nonprofit that has a strong mission statement.
It could also be compared to StoryCorps — though with more emphasis on software and a lot more studios.

Creek.org will benefit Creek in these areas:
Marketing: Creek.org will get shared organically on social media simply by doing something important — recording people's stories. It will attract broad consumer interest, rather than just niche "studio" and "radio" industry people.

Donations: It will get free resources. This could include data storage (like from Backblaze), server hosting (like from DigitalOcean), and CDN services (like from Cloudflare).

Enterprise: It will augment our enterprise version of Creek (as explained below). Since corporations sponsor Creek to record specific types of stories, a "dot-org" will help garner the trust needed to record people's personal stories in the service of these corporations.

Long-term Archiving: Similar to Archive.org — Creek.org could be the enduring entity tasked with maintaining archives for decades.

Lastly, we may also follow Mozilla's corporate structure – if it doesn't break too many things. That would mean incorporating the Creek Foundation as a 501(c)(3) and Creek Inc. as a regular C-corp.
---
Appendix:  Ideas
Other ideas to strengthen this project.
Creek for Enterprise: Stories Wanted

For additional funding, the Stories project could record stories for popular brands.
Brands could create more authentic marketing by gathering recorded stories about their products.
Simultaneously, they would be doing something objectively good — helping people tell their stories, even if they're about a product.
See stories.creek.org — scroll down to Stories Wanted.
Stories Wanted works like this:
A brand like Nike sponsors 100 stories — authentic, personal stories of people talking about sports, their childhood pair of Nike shoes, and so on.
Creek provides the marketplace (an index of Stories Wanted) and the infrastructure of physical studios to create these videos at scale — recording people wherever they are.
People who are interested in telling their Nike-related stories will visit a local studio and get recorded, or remotely work with a local studio.
Creek filters down to the best stories, leaving out low-quality ones.
We edit the videos so that each one looks consistent.
Nike gets a gallery of these stories, which they can post on Twitter, etc.
Creek gets promoted, too — through "Creek.org" logos on the gallery.
Similar Projects
Artifact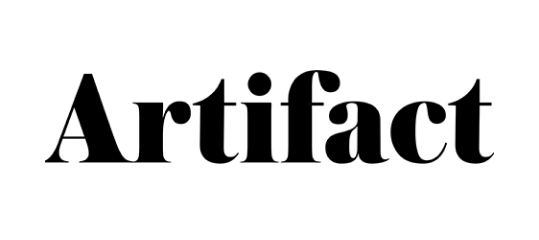 30-minute recording sessions for $119.
Edited so that they sound good.
Each session is hosted on a nice-looking page that can be shared privately.
Targeted customers are regular people (recordings for family), small businesses, organizations, etc.
YC-funded startup.
Has an good Enterprise product: https://www.heyartifact.com/enterprise
Ghost
Strong SaaS.
Self-funded.
Nonprofit with a mission statement.
Open source.
Active developer community.
StoryCorps
An organization that records stories by going city-to-city, and through an app. Stories are organized into categories on the StoryCorps homepage.